Saturday, July 28, 2012
ISTANBULIVE IV
at Lincoln Center Out of Doors
at Damrosch Park Bandshell, Lincoln Center
W. 62nd St b/w Amsterdam & Columbus Aves
New York City
6:30 PM to 10:00 PM
FREE TO THE PUBLIC
Performances by
SELDA BAĞCAN - US Debut
ILHAN ERŞAHIN's WONDERLAND featuring
HÜSNÜ ŞENLENDIRICI
THE SECRET TRIO
Presented by Serdar Ilhan and Mehmet Dede
Supported by the Turkish Ministry of Culture & Tourism
After an unprecedented three-year run at Central Park SummerStage, Istanbulivetriumphantly debuts this year at Lincoln Center Out of Doors for its fourth installment. Over 15,000 fans have attended the three editions in Central Park, and Istanbulive IV now brings its youthful energy, rich tradition and eclectic talent to Damrosch Park Bandshell. Mehmet Dede, co-producer of Istanbulive explains, "Lincoln Center is the world's largest presenter of performing arts. It is an honor to have received an invitation from them to celebrate the rich musical history of the Euro-Asian capital of Istanbul and showcase a diverse line-up of folk, fusion and jazz that reflects the modern face of Turkish music today."
Istanbulive co-producer Serdar Ilhan adds, "I presented the Jazz Made in Turkey Festival at Alice Tully Hall at Lincoln Center in 2004. It is a pleasure to come back with a special treat this year as we present the US debut of a folk and protest music legend, Selda Bağcan. From crowds in Anatolia to world music aficionados and psychedelic rock fans, Ms. Bağcan has influenced generations of fans all around the world since the 1970s." Alongside Bağcan, performing are Ilhan Erşahin's Wonderland project featuring the mighty Gypsy clarinet player Hüsnü Şenlendirici. The Secret Trio, a new band formed by Ara Dinkjian, Ismail Lumanovski and Tamer Pınarbaşı, are opening at this year's Istanbulive.
Istanbulive IV is dedicated to the life and work of electronic music pioneer, composer, and author Ilhan Mimaroğlu. A long-time producer for Atlantic Records, Mr. Mimaroğlu produced many important jazz records including albums for Charles Mingus, Freddie Hubbard, John Coltrane, as well as Federico Fellini's Satyricon. He has worked in the studios of the Columbia-Princeton Electronic Center and released recordings through Folkways Records and Finnadar Records. He was awarded the Guggenheim Fellowship in music composition in 1971.
ISTANBULIVE IV PERFORMERS

SELDA BAĞCAN
"Selda: the Anatolian Joan Baez" - The Observer UK
A pioneer of the Turkish folk, funk and Anatolian rock scene since the 1970s, SELDA BAĞCAN's music and fame has reached universal heights today - it is sampled by major rap superstars (Mos Def), is featured in video games (Electronic Arts' SKATE 2) and appears in popular TV series like Beverly Hills 90210. Her fans include members of Interpol, Marissa Nadler, Chelsea Wolfe, French director Vincent Moon and Antony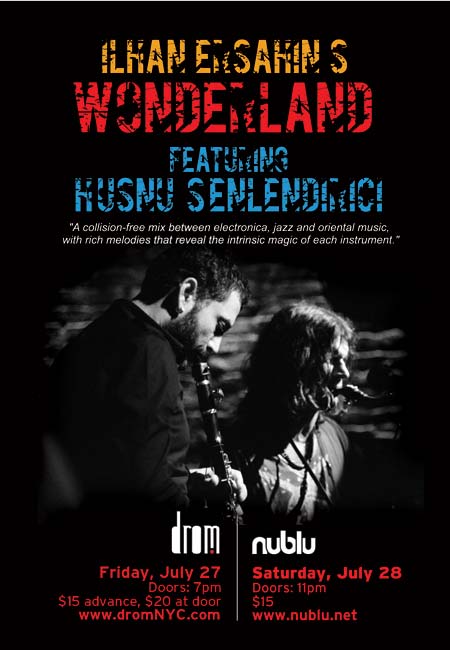 Hegarty of Antony and the Johnsons, who remarked, "The artist I've been listening to more than anybody else is Selda, the Turkish singer ... she's kind of like the voice of the people." Selda has been placed on the seminal "Women in World Music" list (compiled by KPFA radio) alongside Edith Piaf, Mercedes Sosa, Maria Callas and Billie Holiday.

ILHAN ERŞAHIN's WONDERLAND feat. HÜSNÜ ŞENLENDIRICI
"A collision-free mix between electronica, jazz and oriental music, with rich melodies that reveal the intrinsic magic of each instrument."
Seasoned musician ILHAN ERŞAHIN is known for his leftfield jazz, improv and electronic projects like Wax Poetic, Istanbul Sessions, as well as birthing the Nublu scene, a club he owns on the Lower East Side. On his latest project WONDERLAND, he adds oriental instruments like the kanun, darbuka and clarinet to jazz music's more conventional trio - saxophone, bass and drums - to create a world fusion of the highest order, alongside heavyweight clarinet maestro, HÜSNÜ ŞENLENDIRICI who adds a Gypsy touch to Erşahin's urban music stylings.
THE SECRET TRIO
"Traditional melodies that fuse improvisation of the Middle East, dance beats of the Balkans, and elements of jazz, rock, classical & world music."
THE SECRET TRIO is a mesmerizing new band with established musicians that play authentically Mediterranean and Turkish music. It features world-renowned composer/oud master ARA DINKJIAN, clarinet prodigy ISMAIL LUMANOVSKI and kanun virtuoso TAMER PINARBAŞI. The delicate harmonies and intricate counterpoint developed by this trio of musicians with separate roots in Turkish, Armenian and Macedonian Roma music is extraordinary. The trio has invented new ways to play percussively on fundamentally melodic instruments, and as a result the ensemble, which is full of rhythm and drive, never sounds like merely three instruments.